Archive for March, 2008
Mar 30, 2008 Small Cap Stock Picks
GU just decided to get up and go Friday morning and not turn back seizing us from buying any shares near my $11 buy target. Price has rallied over 100% in the last 9 trading sessions so its very likely that some profits should be taken sooner or later. I purchased just a small 1/4 position at 12.50 on friday somewhat distant from my $11 buy target. But its turned out quite well. I'm going to sell this quarter position Monday and look to re-buy another position of GU given the opportunity on a dip near the midpoint of the breakout candle which is 13.50. So we should look to buy some shares in this region as i believe this stock can run higher from here.
Mar 30, 2008 Small Cap Stock Picks
Its been a while since i've found one of these Chinese stocks that used to be so easy to find months ago it was like trying to find piece of hay, in a pile of hay. Since Xinyuan's IPO in December the trend has been in bear mode as the market has faced credit and housing issues all year long lead by the U.S. which hasn't been in favor of upside movement for stocks. I'm not one to call a bottom in the housing sector by any means. But there are always short squeezes and short term opportunities to capitalize on in depressed stocks on the long side.
Fundamentally (NYSE:XIN) is deeply undervalued within the Residential construction industry carrying an extremely low forward price/earnings ratio of just 4.38x compared to the industry average of 26.67x. For the recent fourth quarter XIN posted strong results with income up 81% , excluding a one time charge, and revenue more than doubling to $91m. Looking forward XIN is expecting strong growth with an estimated 1.77eps in 09′ hence the extremely low forward P/E. Given these estimates XIN carries a future fair value within the industry near $46/share compared to todays closing price of just 7.83. Obviously is far fetched to think this stock is going to sky rocket to $46/share. But this depressed valuation along with a bullish chart setup is likely to result in a significant upside move that we can capitalize on. I'm going long XIN Monday.
Mar 30, 2008 Bullish Stock Charts
LUNA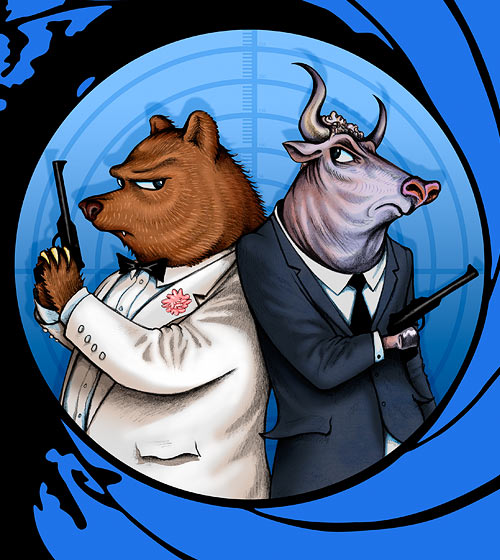 FSYS
BPAX
SNCI
WTSLA
VISN*
JSDA
RSTI
GU*
COT
DFR
GRO
XIN*
QBIK
ERHE
HYBR
Mar 28, 2008 Small Cap Stock Picks
First stock we're gonna take a look at is Emergent Biosolution (NYSE: EBS) . Fundamentally EBS looks strong as it carries a low forward P/E ratio of just 8x earnings on estimates of 1.06 eps in the year following. Currently the Biotech industry is trading at a much higher mutlitple of 26.06x making EBS look fairly cheap among its peers of biotechs. We could suggest a fair value for EBS of 27.60/share found by multiplying the forward earnings of 1.06 by the 26x industry average earnings multiple. This gives us plenty of room to capitalize on a trade with todays closing price of just 8.53:
Technical Analysis:
After breaking out from its bearish descending channel EBS has made a strong run topping it off with todays strong rally on increased volume. Price is down AH and i expect some profits to be taken warrented its overbought. I want to pick up some share of EBS near $8 +/- $.20

Next we're going to take a look at a small cap stock thats making a very bullish trend reversal which broke out today indicated by a rounded bottom/ ascending triangle pattern that was accompanied by increased volume confirmation. The company is Boots & Coots International (AMEX: WEL) . WEL holds a very strong forward earnings multiple of just 6x with the Oil & Well equipment industry average trading at a 14.67x multiple making this stock undervalued within its industry. This combined with a very technically strong short provides us with a golden opportunity to capitalize on a profitable trade. WEL's fair value within its industry is $4.25/share compared to todays closing price of 1.74. I want to go long WEL.

And last but not least we're going to take a look at a recent IPO, Gushan Environmental Energy Limited (NYSE: GU). GU has been stuck in a horizontal trading channel ever since its IPO making quite volatile swings up and down. Though with todays strong move and volume increase i think this could be the run that finally breaks this thing out to new all time highs. GU has strong forward growth carrying a significantly low forward earnings multiple of just 6x compared to the Specialty Chemicals trading average of 16x. GU is expecting earnings 1.76eps on 60% revenue growth for the following year giving this stock a very attractive future fair value near $28/share compared to todays closing price of just 11.97. Today price close right near strong horizontal resistance at the top of its channel and is down AH. This provides us with an opportunity to buy some cheaper shares on the dip. I want to be long GU around $11/share
Mar 25, 2008 Day Trading, Technical Analysis
KIRK made a very impressive breakout today which provides us with a lot of momentum to capitalize on. I alerted that i was buying this stock around 15 minutes before the closing stating im purchasing a 1/3 position when the stock was trading near $1. In the last minute of trading things became very active with 400K + shares traded (over 1/2 the daily total volume) giving another boost in share price to close the day at 1.08. I went long and strong at 1.02.
Mar 25, 2008 Day Trading, Technical Analysis
SYBD has been bull listed several times in the past few weeks and finally hit a strong trigger buy price on the breakout of its symmetrical triangle at .75 today where i suggested to go long. This breakout should spark some strong momentum surging price near $1/share where we should look to take our profits.
CMOS is another stock that we bull listed a week or so ago with a trigger buy price of 1.50 on the breakout of resistance. CMOS barely closed above resistance today at 1.51 but the chart looks strong and could easily result in a strong trade as this stock is fairly valued within its industry near 3.50 and technical we could see price run to the gap fill around $2/share.