Archive for September, 2008
Sep 29, 2008 Stock Market News
To my and many other traders surprise the house of congress denied the passage of the $700b bailout plan and caused mania today in the stock market. The Dow Jones index fell 400 points in a matter of 10 minutes after the bailout bill was slammed by 2/3 of the congressional board. This is the largest single day decline in the Dow Jones index in history. Seems like were making new records every week……. Here's what Bush is saying to congress today(photo below) : Walking away with his american flag that hes going to burn… I could imagine Bush is ready to pass this mess on to a new president to handle. He's served through some rough times.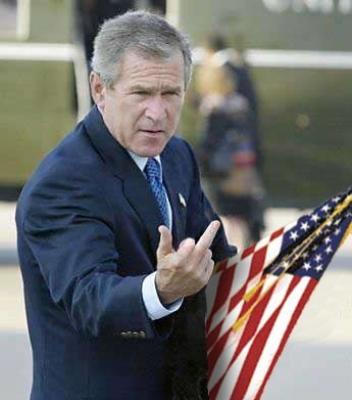 This market environment is extremely tough. Confidence is low, risk is high, and the possibility of losing money is legitimate considering the large swings we are seeing if you are trying to make that gamble of betting on how this market is going to react. I'm sure a lot of people lost money today trying to bet on the bailout plan. I held off from placing any bets on this bailout plan as the market had made a rally into last weeks close which discounted the bailout plan. The typical "Buy the rumer, sell the news". I Was expecting the decline today in the markets but not a 780 point move in the dow haha!
Although this bill didn't get passed i'm sure that there will be some kind of resolution to this chaos with a new bill soon. I highly doubt they're just going to walk away and see how things pan out without coming up with a new plan. If no plan is enacted more banks are going to go under, more risk and uncertainty will cloud the atmosphere of the markets. Listening to CNBC we should be expecting some more news about the resolution later this week with more negotiations.
Look at Technical Analysis of the Dow Jones index it has been in a steady downtrend for nearly 1.5 years suggesting we've been in a bear market with short term bull swings which only last to the upside resistance level of the descending channel in play. Todays 780 point decline pushed price down to the lower support level of the descending channel with a lot of bearish momentum into the close as we ended the day near its lows. Yet this support level suggests a higher probability of a bounce near this levels if history repeats itself. A breakdown and things could get worse, especially if congress and the bush administration are slow to act on a new bailout plan.
Tags: Add new tag, bail out, congress, Technical Analysis
Sep 29, 2008 Stock Market News
Ahhhhhhhhh finally we get some more progress going with this bailout plan thing or whatever you want to call it. Sentiment for this bill is swing both ways with many disapproving i think more so because it has focus on wall st. and not the american tax payers. In my opinion i just want to see some damn stabilization in this crazy stock market and get things back to a normal and at least give us some directional movement in the market to make for better trading opportunities. So Sure give me a little more tax so i can make way more in the stock market!!!
Now we gotta wait on the reaction from the congress to see if this bill even passes. Currently global markets, U.S. stock futures, gold, and oil are all down on news of the bailout agreement as this is your typical buy the rumor sell the news play as Cramer was also stating you should be selling into this latest rally. I'm really looking forward to seeing how this week plays out, Bush is expected to speak publicly about the bill Monday morning before the market open.
I was looking at one of my old videos from earlier this year. I'm amazed at how many stocks there were on my watchlists in early 08 compared to late 08′. In any regards this year has been awesome for trading opportunities overall with our BLACK SERVICE stock picks up over 100% on the year! Test out a FREE 14 DAY TRIAL and get our real time trade alerts and daily newsletters!
Sep 27, 2008 Day Trading
Thursday was a decent trading session going 3 for 3 with my trade recommendations for our Black Service members which you can sign up for a FREE 2 Week Trial Here and have lead to an over 100% return already in 2008 for our stock picks!
Day Trade #1
MVG I went short near the open at 8.80 after alerting our black service members the night before of the potential trade setup up detailed here . Price began to slide right out of the gate early in the morning following that previous day bearish shooting star candle near heavy resistance indicating the likelyhood of a top reversal. We witnessed price drop near $8/share, made a small bounce and then began to trend higher. I covered at 8.23 as 13ema support began to hold and price appeared to be heading higher.
Technical Analysis:
Day Trade #2
MVG was a very similar set up playing a bearish shooting star candle off of a heavy resistance level. I went short early in the morning at 6.65 and eventually covered once price appeared to be making a reversal and exited with an average position of 6.37 for a nice 4.21% quick trade. MVG and MFN both fell sharply again in Fridays session but with the instability in the markets and the possibility of getting a bill passed by congress for the bailout it was risky business to be holding anything over night.
Technical Analysis:
Day Trade #3
QCOR was also another great looking setup for a day trade as price broke out from the 6.80 resistance mark. I Was hoping for a larger intraday swing but price was too slow and i sold very a minimal gain. Went long at 7.03 and closed the position at 7.05 before the close.
Tags: day trade, mfn, mvg, qcor, Technical Analysis
Sep 25, 2008 Day Trading
Gold and silver have been a huge play over the last week or so with many stock in the industry rally 30-60% in that short period of time. But what goes up must come down. No significant profit taking has yet to take place in these stocks yet and it appears that they are nearing that calling as prices near heavy resistance levels and bearish candle patterns are coming into play. Looking at the gold and silver sector we can see price action failing to breakout at resistance. Wednesday failed to hold its rally and closed just barely up on the day suggesting weakness in the chart. With such a large rally its likely that we will see price retrace to a support level such as the 13/9 ema's in the near term.
Day Trading Opportunities:
Looking at our first stock ??? we can see that price made a huge rally from the early 5′s and peaked today near heavy horizontal resistance around 9.50 also forming a bearish shooting star reversal candle suggesting downside movement from here. I think $8 or so should be in near sight for a short term day trade. i plan to go short Thursday with a tight upside stop.
Next stock were looking at is ???? which also made a magnificent rally over the past week yet looks like its glory days are coming close to a close. Price spike intraday on wednesday to tap out at its strong descending resitance trendline as we can see on the chart below while forming a very bearish shooting star candle suggesting negative momentum in the near term. We should also expect to see this stock head to support levels around the 13/9 ema's around $6 or lower for a short term trade. I want to go short here near the open.
Tags: Day Trading, gold, silver
Sep 24, 2008 TTT.net Updates
What an interesting past week and a half we've had with huge volatility on bad and i guess some call good news. Its been a very tough trading environment to be in which is why ive been on the sidelines with cash waiting for some stabilization. Of course there were some big swings in which a lot of money could have been made, but they were all highly risky and highly unpredictable gambles. I'd rather be all cash than try and make a trade on a stock that i can't sleep at night because i'm so nervous about what the outcome of it the next day will be because of some news piece that came out after hours or because of what news might come tomorrow. I've been very conservative in this time of chaos which has been nice knowing that my money is safe where it is right now in a bank account instead of teetering across an unstable bridge that i just "might" be able to get to the other side of before it breaks and i fall. I'm still on the sidelines as of today, i have no confidence in this current market condition of my trades as there is so much uncertainty. As well i can't even make my usual bull list of stocks for you guys because frankly all the chart setups are dog shit at the moment. So much pre-market pump and dumps are making the charts set-ups very abstract which then kill the approaches from trading chart patterns. Essentially what I'm waiting for is this gov bailout bill to follow through and see some stabilization in the markets instead of seeing +500 point days then -500 point days the next. Thats chaos, thats instability, thats uncertainty. When i make a trade i do so because i'm confident in that position and i believe it will continue to move in the direction i see forth. In the past week my confidence level in any given position i see right now is at zero hence my halt on trading. So until we see the bail out news and how the market reacts i'm still watching the markets patiently not trying to force any risky trades upon myself or the ttt.net community. Protecting capital is key to survival in this game.
Looking into tomorrow futures are up on Buffets Bargain Deal on Goldman Sachs:
Heres an interesting article to read about the details of this deal HERE
Sep 22, 2008 Stock Market News
I gotta tell ya this market is so out of control with volatility its bipolar. With the Dow falling and rebounding in a swing of nearly 1000 basis points in a single week starting last monday on the LEH bankruptcy news and topping it off Friday with the banning of short selling 799 financial companies. Technical and Fundamental analysis have been thrown out the door as big news released pre and post market hours will screw you big time if your on the wrong side of the trade and making it very hard to protect your capital from harms way as your mental or set stop loss orders will be blown right past you in the post and pre market trading which have shied me away from placing any bets since last Mondays breakdown of LEH and getting caught on the wrong side of a trade with the DOW trading swings of 500 points didn't sound to appealing to me.
Looking forward into this week there will likely be some more large pre-market volatility with the $700b bailout plan. Global markets are rallying into Monday yet Dow futures are currently down around 100 points. Funny to think i look at the dow futures down 100 points as ….. oh nice thats not too bad….. but 6 months ago if i saw dow futures down 100 points i would be asking wtf news is out causing the market to tank?? Almost like how i saw a sign for gas today for 3.65 gallon and hell ya thats cheap…. but in reality thats effin stupidly over priced in relativity to me paying .99 for gas in the late 6 or 7 years ago…. Times have changed, times are rough, but things will get better its just a matter of when.
So tomorrow morning should be interesting to see how stocks open in reaction to this news that we witnessed over the weekend. Most stocks that posted gains on friday gapped open huge in the morning and sold off into the close which is what i like to call "Gap To Crap" patterns which are a very unpredictable chart pattern to play. So heading strait into the new trading week i'm not looking to buy anything hot out of the gates. Just watching, waiting to pounce on the opportunities as they arise once again here at the ttt.net powerhouse!
on a lighter note here some wall strip for ya
Tags: LEH